Brownston House, 47 New Park Street, Devizes
Both the house and wall are Grade 1 listed buildings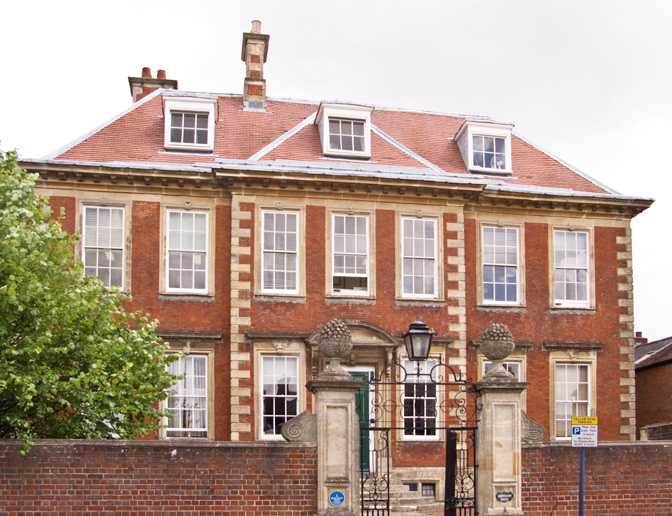 This document has four parts;
A) A documentation of the House's history and its occupants. The only interior plans are those for alterations carried out by the Misses Milman in 1901 - see text below.
B) Photogallery for Brownston House; including major conservation and roof change in 1976 by Kennet District Council.
C) The English Heritage listing for Brownston House
D) Appendix providing more details of the families who occupied the House.
A) A history of Brownston House and its occupants
There was a house on this site in New Park Street, next to St. Mary's Church, as early as 1531. It was owned by Thomas Bayley who died in 1603. His daughter and heiress, by marriage, conveyed his Devizes property into the Drew family of Southbroom.
In 1613 the house was owned by Christopher Henton, gentleman. In 1641 the old house belonged to Judge Nicholas, who also had land and property in Roundway and Bishops Cannings. He was one of the judges at the trial of Archbishop Laud in 1641. Later it was owned by a family named Filkes …probably John Filkes, who was a Baptist minister from 1709 - 1717.
The current House was built in 1700 and Francis Merewether MP was the first tenant or owner.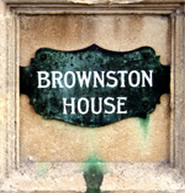 An early eighteenth century rent book refers to Francis Merewether's new built house, now Thomas Browne's. The House was built around 1700 for Francis Merewether of Devizes. He was High Sheriff of Wiltshire in 1700, and is listed there as coming from Easterton near Market Lavington (Wikipedia). Settlement before his marriage to Hannah Leigh of London in 1697 had made him wealthier. The manors of Bulkington, Worths or Bulkington Farm and Week Farm, Keevil were transferred to him. Francis Merewether had two terms as an MP for Devizes. One in 1701 and a second term from 1703 to 1705.
Above left: On the left is an old Brownston House sign on the current entrance gates.
Thomas Browne
In 1720 the House was substantially altered by Thomas Browne, a local Barrister. He added brick and Bath stone to form the House we see today. His initials TB can be seen on the heads of the rainwater pipes. Kite (Wiltshire Gazette 1920 by Ed. Kite) states that some of the rear windows with stone mullions are older. Thomas Browne was still resident in Brownston House in 1736. By 1737 the House had been sold to the Garth family.
John Garth MP and Recorder of Devizes
Brownston House was the Devizes home of the Garth family from 1737 to 1778. John Garth MP (1701 - 1764) was the son of Colonel Thomas Garth and Elizabeth Colleton, grand daughter of Sir John Colleton, one of the original proprietors of South Carolina. He married Rebecca Brompton in about 1732; she was the grand daughter of Sir Richard Raynsford, English judge and Chief Justice of the King's Bench.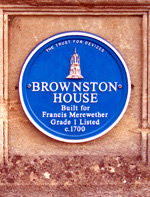 John Garth became a Member of Parliament (MP) for Devizes in 1740 and was re-elected and served until his death in 1764. He was also the Recorder for Devizes, the Town Clerk in modern parlance. The Garth family also held the feoffees (one that is invested with the fief or fee) of St. Mary's Church lands; this gave him the right to appoint the Vicar of St. Mary's Church. His eldest son Charles followed him as Recorder and MP for Devizes (below).Two of John Garth's other children were born in Devizes. His daughter Frances was baptised in St.Mary's Church in January 1744 and buried there in 1768. His son Thomas was baptised there in September 1745; he was to become an Army general and Equerry to George III (see the appendices below). Right above is the Trust for Devizes Blue plaque for Brownston of House.
John Garth died in 1764 and was buried in St. Mary's Churchyard, Devizes on January 2nd, 1765. His estate passed to his wife Rebecca. Rebecca survived him by 20 years (1713 -1784); she died a few months later than her son Charles in 1784 and by her will all her estates including Brownston House and Tan House were sold. She probably lived in Tan House from at least 1779 as Brownston House was rented to the Wadham Locke family from that date. One monument of St. Mary's commemorates John Garth M. P. himself and in the chancel there are two other monuments to the memory of his widow and children. This series of burials and monuments shows the affiliation of John Garth and some of his family to Devizes. His daughter Elizabeth (1739 -1790) and Rebecca were buried in St. Mary's too.
John Garth was succeeded as MP for Devizes by his son Charles Garth. John Garth's had two other sons, besides Charles, who led interesting lives in Army and Court of George III- see appendices below.
---
Below is the oldest photo that we have of Brownston House - ca 1890. It wa supplied to Devizes Heritage by local Historian John Girvan. He photographed a glass plate photo that had been thrown away. Consequently it was broken and distorted. David Chapman, a photo restorer, has kindly restored the photograph - free of charge and to a wonderful degree. The old coach house was still part of the House. Today it is owned separately and broken into 4 parts. There appears to be no house name on the entrance pillars.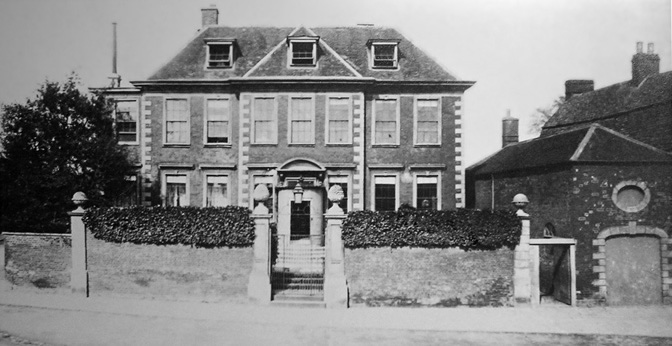 ---
Charles Garth MP and Recorder of Devizes
Charles Garth was not born in Brownston House, but he lived there before going to Oxford. He was educated at Merton College Oxford and was called to the Bar in 1758. He was Crown Agent for South Carolina, Georgia and briefly Maryland circa 1763 in pre-revolutionary America. In 1764 he married Frances (Fanny) daughter of John Cooper of Cumberwell. They had one child Thomas baptised in 1781 in Walthamstow, Essex (St. Marys Church).
On his father's death Charles succeeded him as Member of Parliament for Devizes. One wonders how well he knew his father and whether he was recalled from America only on news of his father's death. Charles Garth served as Devizes MP for 16 years between 1764 and 1780, being elected three times. Brownston House was his Devizes home from 1764 to about 1778/9. He served alongside other local MPs: William Willy (1764-1765), James Sutton (1765-1780) and Sir James Tylney Long, Baronet. (1780-1780).
He was like his father Recorder of Devizes (Town Clerk). He is known to have lived at Brownston House until at least 1776. He relinquished his seat in November 1780 to become HM Commissioner for Exercise. This meant living permanently away from Devizes. Charles Garth died in November 1784, a year before his mother, at his London home in Walthamstow, Essex. He is buried there and not in Devizes.
Wadham Locke I from 1779 to 1821?
Mr. Wadham Locke was an attorney of Devizes and in 1779 he married Ann Sutton, eldest daughter of James Sutton, a Justice of Devizes. She was part of the younger branch of the Sutton family who lived on the large estate at Roundway Park.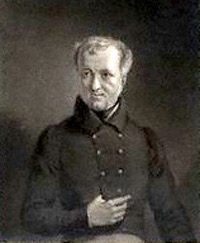 Wadham Locke and his new wife were initially tenants of Rebecca Garth and occupied Brownston House after their wedding. He was part of several generations of Devizes Lockes who were Attorneys and bankers. This date fits in with Charles Garth's permanent move to his Walthamstow London home by 1780.Their son, also named Wadham II was born into the House in October 1779. He was baptised in St. Mary the Virgin Church in Devizes in December 1779.
When Rebecca Garth died in 1784 Wadham Locke I bought Brownston House. The younger Wadham Locke II married the heiress Anna Maria Powell aged 19 in Salisbury in 1802; this marriage settled valuable land in Seend on the Wadham Locke family. It is not known how long Wadham and Anne live at Brownston House and whether his MP son did so before moving to Rowdeford House in 1808. Wadham Locke MP (1779 - 1833) photo above right and Anna had 9 children, 3 sons and 6 daughters. See Appendices for more details.
Charles Trinder, Surgeon and Surgeon to the Devizes County
House of Corrections. Possibly from 1821until 1851.
The Robson's Trade directory, advertising his surgeon and surgeon to Devizes Prison, place Charles Trinder in Brownston House by 1839. He was born in 1794 in Corsham, Wiltshire. The 1841 census confirms that he lived there with his Ellen. He was appointed Surgeon to the County House of Corrections, Devizes in 1821 and worked there until at least 1848. In 1825 he was elected and sworn in as Members of the Corporation of the Borough of Devizes. Whether he lived in Brownston house from 1821 is as yet unknown. He had a daughter Frances born to him and his wife in 1842 in Brownston House; the 1851 census lists his 9 year daughter as being born in Devizes.
His Prison surgeon role gave him an annual salary of £100 in 1847/8. The 1842 - 1860 Devizes Division Income Tax Assessments by Colley show that he paid taxes in Devizes from 1842 until 1850/1851, where he is listed as living in Brownston House. He was assessed an income of £350 per annum and paid £25 tax in1842/3. By 1851 he had retired to Bathwick with his wife and daughter.
The Misses Bidwells Ladies Boarding School from 1859 to 1900
This school was in Brownston House from 1859 to 1901 (called Seminary in the 1841 and 1871 census).
Miss Bidwell's Ladies Boarding School was located on New Park Street by 1839. This date is obtained from the Robson's Trade Directory for 1839. It had premises in number 9 New Park Street, successively the home of John Tylee the brewer (d. 1812) and the former White Hart inn. From: 'The borough of Devizes: Religious and cultural history', A History of the County of Wiltshire: Volume 10 (1975), pp. 285-314. The 1841 census shows that Elizabeth Bidwell was the Principal of a small seminary and her mother and younger sister were living with her on "independent means". Miss Bidwell was born in Fakenham, Suffolk in about 1809. The school was located at first in the former White Hart in New Park Street. By 1859 (possibly earlier) the high class Lady School was located in Brownston House (History of Devizes, 1859 p 406). The appendix provides more details on the early school.
The census from 1841 to 1901 provides valuable information on the school and various directories show a consistent advertisement country wide. Miss Elizabeth Bidwell was the school principal from 1839 to 1880. The School was home to up to 21 Ladies aged 6 to 17 in a private high class boarding school. The bar chart shows how the school grew in the number of both boarders and teachers peaking around 1871. It is not known whether or not the school took day girls. Miss Bidwell and her girls regularly attended Sunday services at the nearby St. Mary's Norman Church. (Photo below is the rear of Brownston House with St. Mary's Church)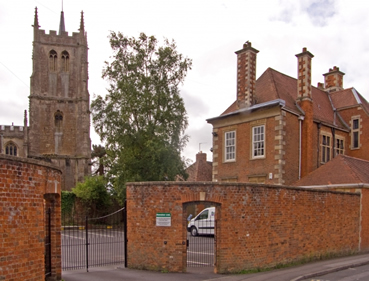 From 1851 Elizabeth had her young niece Elizabeth Anne Bidwell (born Teffont Wiltshire in 1837) living with her. In 1861 her niece is listed as an assistant teacher. Maria Chandler of Devizes taught at the school from at least 1851 to 1871. By 1871 Jacqueline Dumarest (Dumarett) from Paris, France was a French Governess at the school. She stayed for at least 30 years; she is listed as still resident in 1901 after the death of Miss Elizabeth Anne Bidwell earlier in 1901.
In 1871 the School had twenty one boarders in the school with four teachers - including the two Bidwells - a cook, housemaid and 2 general servants. The young ladies were aged 8 to 16 and they came from a broad range of places. In 1871 9 of 21 were from Wiltshire, 3 from Somerset, 1 from Kent, Hertfordshire, Suffolk and Middlesex. Five girls were from out of Great Britain including 1 from Melbourne Australia and 1 from the West Indies.
Miss Elizabeth Bidwell died in Devizes aged 70 in 1880 and Elizabeth Anne Bidwell followed her Aunt as Principal. In 1881the school had 4 teachers, 2 new English Governesses and Miss Dumarest still teaching French. The number of boarders had declined to 13. Over the 20 years from 1880 to 1900 the school seems to have declined without her Aunt's presence. Elizabeth Anne Bidwell died in early 1901. Miss Dumarest was still in the house on census day, but by the end of the year the house had been sold to the Misses Hilman sisters.
The Misses Milman at Brownston House
In 1901 until at least 1929 one or more of the Misses Milman occupied Brownston House.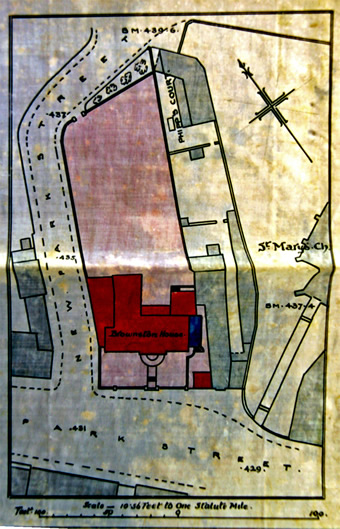 The Hilman sisters inherited their wealth from their father Henry S Hilman. He was born in Monmouthshire and graduated from All Souls College, Oxford. Henry Hilman was a Barrister and practised Law in Kent and Worcestershire, before settling in Canley Gardens, Kensington where he died in 1893.
There are detailed architectural plans in the Wiltshire and Swindon Archives (G20/760/180 for 1901) for "alterations and additions" to Brownston House. They were drawn up by architect Harold Brakspear FSA in December 1901.Some of these are shown on the right and below.
The sisters attended St. Mary's Church regularly and were great benefactors to it.
Miss Bertha M. Hillman was in residence until at least December 1928 after the death of her sister.There is copious correspondence, one in Bertha's handwriting (Wiltshire & Swindon Archives 2512/120/20 1928) about the front wall (listed grade1) The wall was "cracked and bulging". Whether this was solved before Miss B Milman's death in 1929 is unclear but it was clearly a worry to her.
Below is the plan for the downstairs 1901 refurbishment. The floor plan below includes planned new additons in red.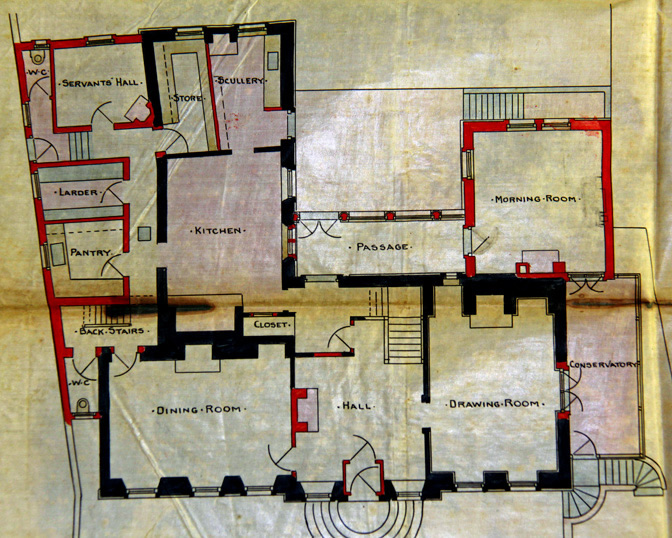 Below is the 1901 plan for the upstairs alteration for Misses Milman. It looks like the upstairs were largely open doemitories for the boarding girls in Miss Bidwell's time.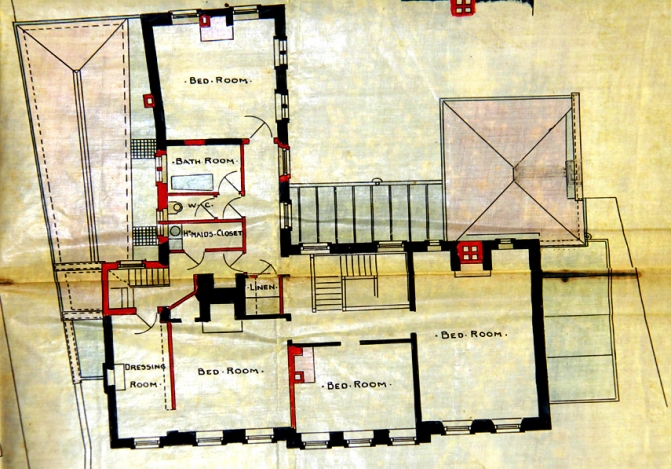 Brownston House Post 1928
Later the House became a Nurses Hostel for Devizes and District Hospital. It appears that after the Hospital no longer required it the house fell into disrepair until the Local Authority purchased it.
The March 7th, 1969 Gazette states that one of Devizes most famous properties may be sold.
It now belongs to Department of Health and is used principally as a nurses training school with matron's flat on the first floor and domestic accommodation on the second floor - but according to the Secretary of Mid Wilts Hospital Management Committee is a very expensive property to maintain.
In late 1971 a For Sale notice appeared.By Order of Secretary of State for Social Services
Imposing Queen Anne Residence. 18 rooms, 3 Bathrooms, Domestic Offices, Walled Garden, Garage, suitable also for offices, Antique Showrooms or Nursing Home.
For sale by Auction 13th. January 1972.
The 1972 January 20th. Gazette state that Brownston House was Sold for £21,500 at Auction at Bear Hotel. The purchase was Mr. Christopher Buxton, Chairman of Period and Country Houses Ltd. Of London who said afterwards "Our job is the restoration of important period houses";.
By June 21st, 1974 21st the Gazette states that a move, made by the property development firm to demolish part of Brownston House was thrown out by Kennet District Council Planners. It is a Grade 1 listed building, one of only 5000 such buildings in the whole of the country.
The North West wing is so infested with dry rot and beetle, that eradication will be difficult and costly and could spoil the external brickwork and so the owners ( Period & Country Houses) want to demolish it. The interior of the Wing would need to be stripped back to the brickwork and the timbers, even the roof timbers would have to be replaced.
The July 1975 Gazette reports that Kennet District Council decided to buy Brownston House at a cost of £33,000. The purchase was queried by Councillor Geoffrey Taylor, an estate agent from Rowde. He described the house as being in a steadily continuing state of decay, a building in need of considerable repair. The price was based on district valuers figure of £25,000 for house, £6,000 for land at the back and £2,000 for detailed bills of quantity, estimates and drawings making a total of £33,000. A further £1,600 was needed for legal and loan fees.
If planning is refused, the Council could end up having to buy the building. A suggestion was made that the Council could use the building as an Art Gallery.
In 1976 Kennett District Council started a major refurbishment and repair programme which saved the house for the future. See photogallery
After the repair Brownston House was used as a Doctors' Surgery and offices of Wiltshire Social Services. In 1999 Kennet District no longer required the building and sold it in 2000 to Renelec who currently use it for their offices. Renelec provide high class installation of Domestic and Commercial Plumbing & Heating Systems in the south west of England.
Ghosts
Like many buildings in Devizes, Brownston House has a ghost!! In one of the back bedrooms a figure has been seen of a young lady, reputed to be Princess Augusta Sophia, who was born in 1768, the sixth child and daughter of George 111. She was first seen when the building was used as accommodation for nurses working in the nearby hospital. The Princess stayed at Brownston House with General Thomas Garth who was Equerry to the King and her lover. She was quite a lady of attention with a spritely manner and sometimes described as flirtatious and flighty. In 1789, her brother the Duke of York escorted her to a ball and fought a duel with Colonel Lennox who had made eyes at her. The ball broke up in disarray. The Princess also had a supposed attachment to the Prince Royal of Denmark. It is said that she enjoyed her visit to Devizes at Brownston House so much causing her to return as a ghost!
C) English Heritage Listed building register Brownston House.
1042 NEW PARK STREET (North East Side) No 47 (Brownstone House) Grade I. IoE Number: 434336.SU 0061 3a/159 I GV 2. 1720. 2 storeys and attic, with basement. A wide front divided in 3 main parts with 3-bay central projection. Symmetrical, except for additional 1 bay extension set back to left hand. Stone plinth with moulded capping. Dark red rubbed brickwork of very fine quality. Chamfered stone quoins. Elaborate moulded stone cornice with carved brackets. Hipped old tile roof. 3 dormers each with moulded wood cornice. Main part - 7 tall windows on 1st floor all with stone bolection architrave and keystones, the central with 'mask' carving and remainder with
leaf ornament. 6 similar windows on ground floor with additional frieze and cornice over each. Tall 8-panel central door in heavy plain frame and stone surround of bold bolection architrave with keystone ornamented with cupid's head over folded wings, outer surround of panelled pilasters and carved scroll brackets. (Acanthus ornament) supporting moulded cornice with enriched bed mould (leaf motif) and segmental pediment similar enrichment. Six 2-light stone mullioned leaded casements, to basement. Bay to left hand same design and one window (cornice at slightly lower level). The house has a forecourt of brick paving and flight of 5 semi-circular steps to entrance door. Square chimneys of brick with stone quoins and moulded stone capping. Wing to left hand at back of building, similar general design but with coved plaster cornice, Some slight modern additions on return elevation to left hand. Interior has
Forecourt Wall of Brownston House, 47 New Park Street, Devizes, Wiltshire.
Date listed: 19 September 1972. Date of last amendment: 19 September 1972
Grade I. IoE Number: 434337
1. 1042 NEW PARK STREET (North East Side) Forecourt wall of Brownstone House SU 0061 3a/159A I GV 2. The forecourt has a surrounding brick wall, moulded stone coping, swept up to square rusticated stone angle piers with moulded and large stone ball finials. The centre gate piers, also square stone, are large with panelled treatment, joined to brick with supporting stone side scrolls and moulded caps, with egg and tongue bed mould and large carved stone cone finials. Gate stops with inverted scroll heads. Iron gates of square bars, scroll across rails and side panels. Rectangular front scroll overthrow with scroll cresting and central lamp. Brownstone House, No 48 and the Castle Hotel form an important group at the South end of New Park Street.
D) Appendix
The Garth Family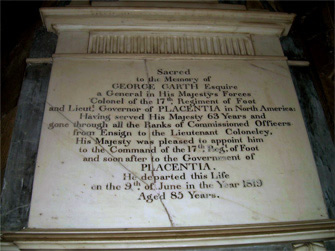 General George Garth was born about 1733 and probably spent some of his boyhood in Devizes. He was a British General in the American Revolutionary War, Colonel of the 17th Regiment of Foot. He served as second-in-command to William Tryon during the attack on New Haven, Connecticut in the summer of 1779 when on 5 July his forces landed at West Haven, whilst those of Tryon landed at East Haven. Dispatched to replace General Augustine Prevost at Savannah, Garth was taken prisoner on HMS Experiment. In 1811 he was Lieutenant Governor of Placenta, Newfoundland, Canada. He died in Beverley, Yorkshire in 1819 at the age of 86.
General Thomas Garth (1744-1829) Colonel of the First Dragoons from January 1801 to November 1829. He was born in Devizes and baptised at St. Mary's Church, Devizes in September 1745. The listed birth year is possibly wrong.
He entered the Army as Cornet in the 1st Royal dragoons (Cavalry) in 1762. He served at the end of the Seven Years War campaign in Germany under the command of Prince Ferdinand. He gained his Lieutenancy in 1765 and was made captain in 1775. In 1779 he transferred to the 20th Light Dragoons and was part of the unsuccessful expedition to the West Indies.
Later he was made chief equerry to King George III of the United Kingdom. He rented Ilsington House (above) at Puddletown Dorset between 1780 and 1829. This House was often visited by the royal family en route for Weymouth. He was accepted as the father of an illegitimate child born to Princess Sophia Matilda Hanover, Princess of the UK - one of the King's daughters. The child was named Thomas Garth and he was born on 11 August 1800 at Weymouth in Dorset. However there is a suspicion that the child was the result of an incestuous relationship with her brother the Duke of Connaught. Thomas died in 1875.
Wadham Locke family
In 1808 Wadham Locke II (1779 -1835) MP purchased Rowdeford House, Rowde near Devizes. By 1812 he had completely rebuilt it. He was the senior partner of Locke, Hughes and Co a Devizes banking company and a man of influence. He was deputy-lieutenant and high sheriff of Wiltshire in 1804. He was one of many who were sworn in as Grand Jury at trials of the men apprehended for their part in the Agricultural Riots of 1830. In 1832 he was elected MP for Devizes and served until his death in 1835. Hansard records him speaking in Parliament on July 21st, 1835 for the reduction of duty on snuff and tobacco. His eldest son also Wadham was married and was living in Seend in the inherited property. His youngest child was Frances Isabella was born in 1829; she became well known as Mrs Duberly who went to the Crimean War. He died unexpectedly at the age of 56 in October 1835. Anna Locke stayed on at Rowdeford, but died later in 1838.
In 1857, the eminent land-owner Wadham Locke III owned a property in Seend called Rew House. After knocking it down, his son, Wadham Locke IV built Cleeve House half a mile from the original site, to be the Wadham family home. He and his five sisters made their home here, and one sister, Frances Locke (Duberly) became famous for going to the Crimean War. She was the last Locke to live at Cleeve House, and when she left in 1883 the building was sold to the Bell Family.
Charles Garth (1734-1784) MP and Recorder of Devizes
Below is the oldest photo that we have of Brownston House - it is ca 1890. It was supplied to Devizes Heritage by local historian John Girvan who had taken it from a cracked plate photo which had a servere distortion and black line on it. David Chapman, photo restorer, has kindly restored the photo free of charge. The coach house to the right of the House is still part of the House rather than split into 4 separate parts as it is today. There appear to be no name plates on the front entrance pillars.