Open Spaces, Heritage Sites and Natural Areas around Devizes
Alan Carter is now living in Peru, but still editing this website, writing a book on the battle of Roundway Down with Dr Chris Scott and pursuing his interests in photography and ancient human migration to South America. Details are in the updated Contact and About page.
The site is now large and you will find the the Search function useful. It searches only this site.
Devizes is blessed with its natural environment. It is situated on an upland plateau 120 m above sea level. To the north and east is the North Wessex Area of Outstanding Beauty (AONB).
We are surrounded by very beautiful chalk land scenery which support a wide range of outdoor recreational activities. The Kennet and Avon Canal runs through this area and it provides a wonderful boating, walking and cycling corridor for residents and tourists alike. Photogallery of Outdoor Devizes - our natural heritage..
The World Heritage Site at Avebury is only 7 miles away with its prehistoric circles, Silbury Hill and the West Kennet Stone avenue. The Ridgeway National Trail starts from near the Sanctuary on Overton Hill on the A4 near Avebury.
Outdoors and Open Space Links
Devizes Millennium White Horse
Devizes to Westminster Canoe race - every Easter weekend.
Drew's Pond Woods Nature Reserve A beautiful woodland area with footpaths, picnic facilities, wild flowers, a lake and stream.
Fyfield Down - has natural Sarsen stones which show what the prehistoric landscape was like and how the stones were accessible for circle and avenue construction.
The Green, Devizes this wonderful open space at the centre of Devizes makes Devizes special. It has something for everyone; the historic Crammer Pond with Moonraker associations, a modern playground and plenty of grass for picnics and playing.
Hillworth Park is now a wonderful park with many play areas and open space and a cafe. This page provides a location map, some information on the facilities and the £1.9 million development project with photos.
The Caen Hill flight of locks at Devizes was completed in 1810 providing a water trade link between Bristol and London, now a wonderful recreational resource. A history of the canal is provided too.
Oliver's Castle and Roundway Hill
Good access from Devizes for the walker, picnicker, historian and nature lover.
Quakers Walk foot path leads to open country and Roundway Hill. It is the subject of intense public concern about development in Devizes.
The Wansdyke -an enigmatic 5th century AD ditch and bank, 72 km long. It provides a diverse range of recreational opportunities around Devizes and the Pewsey Valley.
The Wilts and Berkshire Canal A gentle highway between Abingdon and Semington. Once an industrial route and now being restored for leisure uses.
Meeting on February 3rd, 2014 - see opposite
General links to Wiltshire wide outdoor websites Links
Below:The stream that fills Drew's Pond - in winter snow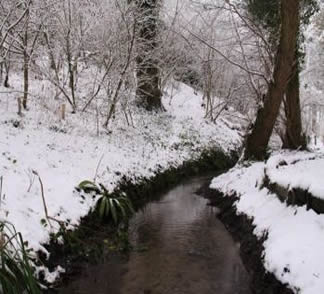 Above:the flight of Caen Hill Locks leading up to Devizes

Above:Oliver's Castle Bromham. It is an iron age fort.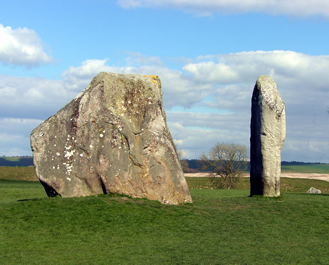 Above: Two sarsen stones at Avebury, our stimulating and fascinating World heritage site near Devizes
Below: May bluebells in West Wood near Lockeridge.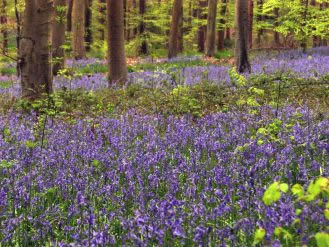 Why not talk to Devizes Heritage?
Please contact Devizes Heritage to add corrections to any of these pages. You may wish to suggest new material and contribute your own photos. Please use the Contactpage.
Below the woodland in Leipzig plantation on Roundway Hill. This is managed by Devizes Town Council.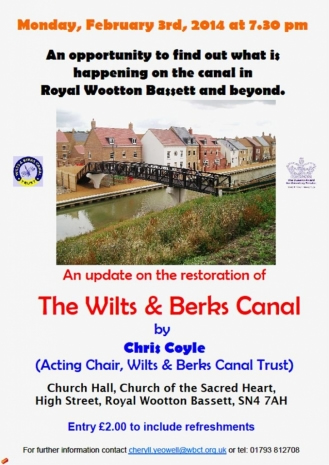 Below: Oliver's castle the iron age fort's trees with Morgan's Hill behind. This site is well used for family picnics, nature enjoyment, kite flying and model glider flying.