Hillworth House, Devizes, Wiltshire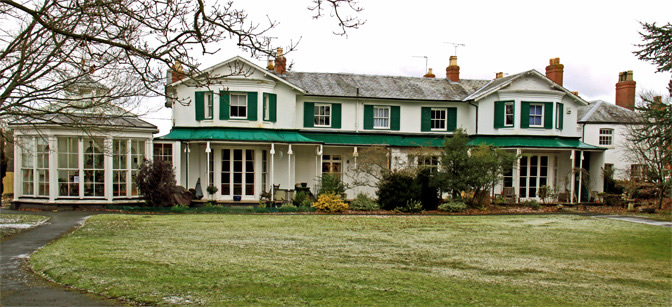 Hillworth House is a private grade 2 listed house. It forms a focal point of the public Hillworth Park.
This document describes
the history of Hillworth House from 1737,

provides photos of the House, garden pavilion and the Quaker Burial Ground

It also gives the English Heritage listing for the House - grade 2 - and the garden pavilion grade 2* .
Introduction
The first Hillworth House was built before 1737 and was some 100 yards east of the current house. This House had its own large private 22 acre park with an early 18th century pavilion – this survives as a grade 2* English Heritage listed building.
The Hillworth House we see today was started by Thomas Hall in 1832 on land owned by his estate. It was 100 yards to the west of the original House. The new Hillworth House was purchased by Alexander Meek in 1841. He was a solicitor, banker, landowner and Devizes Town Clerk. He expanded and developed the House. The House remained in his family for 82 years.
Hillworth House is now in private hands. But the park was purchased by Devizes Council and is now the public Hillworth Park. Devizes Town Council in early 2010 secured a £1.9 partnership plan with the Heritage Lottery Fund. Heritage features will be conserved and made accesible. Recreational facilties for all age children and youth will be developed. A building with meeting space and a cafe will be built by a reflecting mirror pool.
There is more information available on the history of Hillworth park on their own Website.
The History of the Hillworth House
The original Hillworth House was built before 1737 - about 100 yards to the east of the current house. The site of Hillworth House was always outside the outer town medieval ditch.
The earliest map that shows the pre -1737 Hillworth House house was drawn by John Overton (1737-8). This shows the house and garden located between the Gallows Ditch and the Quaker Burial Ground. This earlier house is shown in the middle of the Overton map.
This House also appears at the bottom of Edward Dore's 1759 map.
The seminal 1773 map by Andrews and Drury of Devizes does not name Hillworth House or its grounds or an occupier of the Hillworth estate. Charles Garth (Brownston), William Salmon(Castle) and Edward Eyles (Southbroom) have their Houses located.
William Ludlow - snuff manufacturer in Devizes 1779 to 1813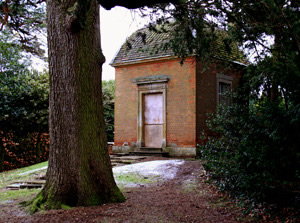 William Ludlow bought Hillworth House in 1779 and he built a larger house on the site. We do not know whether he demolished the original house, or merely altered it. In 1779 Hillworth House had an estate of twenty two acres. Ludlow was a wealthy man and he has been described as a proprietor of "a considerable Snuff Manufactory". He gave evidence to the House of Lords on the Tobacco Bill of 1789 and in 1778 his trade goods were recorded as being insured for £1,000. Devizes has a tradition of snuff manufacting. Tobaccos were cured and snuff ground from the early part of the 18th Century. Snuff was made and sold in Devizes by a firm of grocers founded by Richard Anstie in 1698. Around1740 the windmills on the castle motte were being used as snuff mills. Dr. Stukeley has provided us with a 1743 famous sketch of these windmills. Above is the 18th century Garden Pavilion, it is garde 2* listed.
The Victorian County History of Devizes tells us that:
"Apart from the Castle and Old Park the only substantial property within the ancient borough bounds was Hillworth House. Hillworth, as a field name, is traceable from 1668. In 1779 it came into the hands of William Ludlow, the snuff-maker. He built a house upon it, larger than the old one and laid out a park of 22 acres. By 1803 it seems to have been called the Folly in Townsend".
George Sloper, baker and a Devizes Mayor wrote in his diary that on 29th May 1803 "Mr Ludlow of the Folly at Townsend was declared a bankrupt in the London paper, but the bankruptcy was superseded." In1813 Ludlow became bankrupt again. Hillworth House was advertised for sale by auction in 1813 and for this sale Ludlow had a plan and map of the property drawn up in 1812 by John Hayward - a Rowde surveyor. The House was sold but it is unclear who bought it. William Ludlow retired to Bristol where he traded as a tobacconist.
The next owner is not specifically named but it may have been a Mrs Wakeford from Andover, Hampshire. In August 1819 the Reverend Richard Elliott, Congregational Minister for 51 years from 1803 to his death in 1854, wrote to Mrs Wakeford. The Reverend Elliot was managing the Hillworth Estate and he sent a letter to her asking for instructions for the future of the Hillworth Estate.
The Miss Pawsey Gentlemen's Boarding School.
The house and garden were occupied from at least 1818 by Miss Sarah Pawsey at a rent of 30 guineas (£31.50) per annum. Miss Pawsey, kept a gentlemens' preparatory boarding school in Hillworth House. Over the next few years Miss Pawsey made announce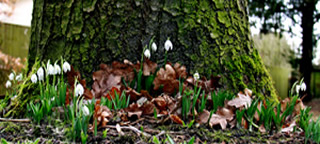 ments in the press;
12th July, 1819 in the Salisbury and Winchester Journal: "Miss Pawsey acknowledges with gratitude the encouragement she has received, and respectfully informs her friends and the public, that her Hillworth House Preparatory School for young gentlemen will reopen on Monday the 18th July 1819. The terms are moderate and delightful".

A similar announcement was made in January 1822 in the Salisbury Journal that she hoped "to inspire her pupils with a love for literature".

In 1822 she advertised in Pigot's Trade journal for her school in Hillworth House,

in 1826 the Salisbury and Winchester Journal paper announced that 'Miss Pawsey had left Hillworth House.
Miss Pawsey went to live in Bridewell Street, Devizes and later she moved to Weymouth.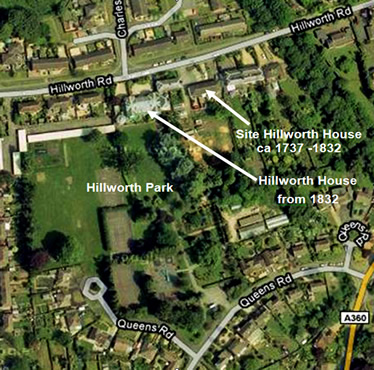 In 1832 the property was bought by Thomas Hall. In many ways this was the critical period for Hillworth House. Mr. Hall demolished the existing house and rebuilt the house on a site some one hundred yards to the west, but still within the estate.
Why the site of the house was moved is unknown. Rumours of a proposed railway may have influenced the decision. But probably the condition of the existing house at the time may have meant that a modern house was required.
At this time the house and gardens could also be approached by a long drive from the Potterne Road.
The Meek Family at Hillworth House - 1841 to 1923
In 1841, the house was purchased by an unmarried solicitor Alexander Meek. He was to become a very influential and rich man in Devizes. He became a banker, Devizes Town Clerk and a considerable land ownwer. He remodelled and made many additions to the House. In 1842 he married Lucy Anne Grant of the Manor House, Manningford Bruce near Pewsey. He inherited this Estate in 1866 on the death of his father-in-law John Grant.
On the 1851 census day the married Alexander Meek was working in Devizes and was resident in Hillworth House. His wife Lucy Anne had taken her three children to Bristol to see her parents, John Grant and his wife in their Clifton, Bristol home.
| | |
| --- | --- |
| 1851 census Clifton | Age |
| John Grant | 67 |
| Ann Grant | 64 |
| Lucy Anna Meek | 33 |
| Alex Grant Meek | 7 |
| Jane Anna Meek | 6 |
| Lucy Catharine Meek | 4 |
| | |
| --- | --- |
| 1851 Census Devizes Hillworth House | Age |
| Alexander Meek | 42 |
| Sarah Bigwood, servant | 45 |
| Ann Duck, servant | 28 |
By 1861 the Meeks had five children at home and a residential teacher for the children and a sick nurse. Alexander is still listed as a solicitor; a partner in the firm of Locke, Tugwell and Meek.
| | | | |
| --- | --- | --- | --- |
| Census 1861 Hillworth House | Age | Staff | Age |
| Alexander Meek, Solicitor | 52 | Berthe Wallet, residential teacher | 26 |
| Lucy Anne Meek (nee Grant), Wife | 43 | Sarah Bigood, House servant | 56 |
| Alexander Grant Meek, son | 17 | Mary Ann Duck, House servant | 33 |
| Jane Anna Meek, daughter | 16 | Elizabeth Pullem, House servant | 26 |
| Lucy K Meek, daughter | 14 | Rose Ann Lye, House servant | 15 |
| Ethel Margaret Meek, daughter | 9 | Mary Smith, Sick nurse | 50 |
| Henry Edgar Meek, son | 3 | | |
In 1871 Alexander Meek is listed as a banker and land owner. He was also County Treasurer and Town Clerk. He had inherited the Manningford Bruce Manor estate in 1866 on the death of his father-in-law John Grant. The family was getting even more wealthy and they had a butler and designated cook. Alexander Grant Meek - the oldest son and heir - is back at Hillworth House after attending Harrow and graduating from Magdalene College, Oxford. He was articled in his father's firm as a solicitor.
| | | | |
| --- | --- | --- | --- |
| Census 1871 Hillworth House | Age | Staff | Age |
| Alexander Meek, banker, landowner | 64 | Frederick Cross, butler | 30 |
| Alexander G Meek son, solicitor | 27 | Sarah Bigwood, housemaid | 68 |
| Lucy K Meek, daughter | 24 | Ann Cullen, ladies maid | 24 |
| Ethel M Meek, daughter | 19 | Ann Sinker, cook | 27 |
| | | Alice Busler, domestic servant | 16 |
The 1881 records show Alexander Meek as living in Clevedon, Somerset on census day, but this was his holiday home in today's parlance. He was a significant benefactor, just prior to his death in 1889, Meek gave £1000 to St James Parish Church to build the Southbroom Parish Rooms, which are still in use today.He died in Devizes in 1889 aged 80 years.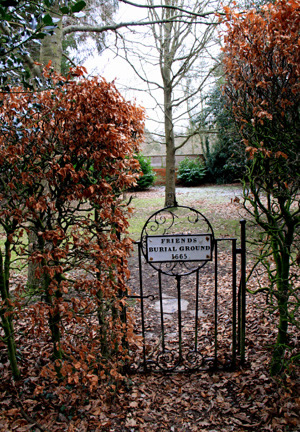 The house remained in the family's possession through his son, Alexander Grant Meek. Alexander Grant Meek was listed on the 1881 census as head of the house. AG Meek became a partner in the firm in 1869. He married Mary Edith Dowding of Marlborough in 1875. She was the daughter of the Rector of St. Peter's Church in Marlborough.
He went on to take many of the civic roles that his father had undertaken. He was Town Clerk of Devizes, County Treasurer and in 1880 became the Registrar and High Bailiff of the Devizes County Court. He was also Clerk and Treasurer to the Visiting Committee of the very large County Asylum ( Mental Hospital) in Devizes. In 1891 he became a Justice of the Peace and in 1892 a County Council Alderman.
In the 1890s AG Meek purchased the plot of land called the Quakers Burial Ground (right). This now makes a delightful and quite role in Hillworth Park. Alexander Grant Meek was a wealthy man through "good marriages" by his family and hard work. In 1881 he and his Mary were visiting Mrs Dowding in Brixton Deverill on census day. Their children were left at home in Devizes.
By 1891 Alexander and Mary have five children at home aged 14 to 1 year old. There were seven servants in the House. In 1891 he lists his roles as Estate Agent and County Court Registrar and he may have retired from the routine of his Solicitor work. By 1901 he is listed in the census as living on his oown means and has essentially retired. His household included five residential servants and he also employed several gardeners.
| | |
| --- | --- |
| 1891 census Hillworth House | |
| Alexander G Meek, Estate "Agent" County Court Registrar | 47 |
| Mary E Meek, wife | 40 |
| Lucy A G Meek, daughter | 14 |
| Elizabeth M Meek, Daughter | 13 |
| Alex J G Meek, Son | 10 |
| Bridget E G Meek, Daughter | 8 |
| Ernle Meek, | 1 |
| Elizabeth Wyatt | 58 |
| Sarah Lovelock | 40 |
| Ellen Blagdon | 25 |
| Edith Rose | 24 |
| Agnes E Crook | 24 |
| Ellen Julliver | 15 |
| Julia Hawkins | 13 |
| | |
| --- | --- |
| 1881 census Brixton Deverill Wiltshire Rectory | |
| Lucretia F. Dowding, Mother-in-law | 48 |
| Lucretia N. Dowding ,daughter | 21 |
| Alice C. Dowding daughter | 19 |
| Alexander G. Meek, Solicitor, Visitor | 37 |
| Mary E. Meek, Wife, Visitor | 29 |
| Maria Ballard Servant | 28 |
| Elizabeth Atherton Servant | 20 |
| | |
| --- | --- |
| 1901 census Hillworth House | |
| Alexander Grant Meek, "Living on own means". | 57 |
| Mary Edith Meek ,Wife | 49 |
| Elizabeth M Meek | 23 |
| Bridget Edith Meek | 18 |
| Sarah Lovelack | 50 |
| Edith Amy Barrett | 28 |
| Harriett Hake | 38 |
| Ida Grace Barnett | 26 |
| Rhoda Maria Hawkins | 15 |
There was a tradition of the grounds being opened to the public being used for public concerts during Hospital Weeks, as the Meeks had been great supporters of the Cottage Hospital.
Alexander Grant Meek died in 1917 aged 83 but his widow continued to occupy the property until she died in 1923. She had a handsome stained glass window placed in the Beauchamp Chapel in St John's Church in her husband's memory.
The Alexander Grant Meek children sold Hillworth House and resided in the Manningford Bruce Manor House. They seem to have adopted the christian name of their father as part of a new double barrelled surname Grant Meek - in honour of their great grandfather John Grant.
John Grant (d. 1866) had bought the Manor in 1816. He was succeeded there by his son-in-law Alexander Meek (d. 1888), grandson Alexander Grant Meek (d. 1917), and great-grandson Ernle Grant Meek (d. 1944). Ernle Grant Meek was succeeded by his sisters Elizabeth Muriel Grant Meek (d. 1950), and Bridget Edith Grant Meek (d. 1956). Bridget Grant Meek willed the estate to her kinsman (the family of Alexander Grant Meek's wife) Major W. W. Dowding who was the owner in 1971.
The 20th Century
Following the death of Meek's widow, the property was sold by private treaty in 1923 to a Mrs Seaton of Taunton. The sale catalogue is shown in a Gazetteer . It describes the estate as consisting of an estate of 27 acres, with garden, accommodation land, kitchen garden and cottage on Hillworth Road. It is further described as 'an attractive Georgian residence, with fourteen bedrooms, four bathrooms, five reception rooms, servants' hall, domestic offices and a small farmery. The finely timbered grounds are of exceptional charm, with tennis and croquet lawns, herbaceous borders, rose gardens, woodland walks, a wild garden, a Queen
Anne summer house with a domed slate roof, a walled kitchen garden with a
small range of glass houses, a productive market garden having a long frontage
to Potterne Road'
In 1945 when there was an acute housing shortage, the house and land were bought by the Council of the Borough of Devizes. The house was turned into apartments for rental accommodation. Of the 27 acres of the grounds, fifteen acres were sold for private residential development in what is now Queen's Road.
Hillworth Road was also extended with the building of Hillworth council estate leaving an area of nearly five acres became the present Hillworth Park. Some of the tenants of the apartments in Hillworth House worked for the Council's Parks Department. With local government reorganisation in 1974 the house was transferred to the new Kennet District Council with the park transferring to the Devizes Town Council. Until 1975 the conservatory attached to 1 Hillworth House was accessible by the public. However, in 1975 the rights of access was given up.
English Heritage listing for Hillworth House and Pavilion
There are 2 listings; Hillworth House is Grade 2 House and its Garden Pavilion is grade 2*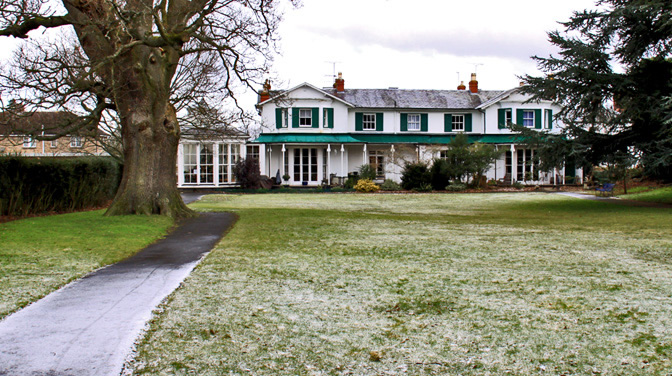 Hillworth House - grade 2
Image of England reference Number : 432024
Location: Hillworth House, Hillworth Road(south side), Devizes, Wiltshire.
Date listed: 19 September 1972 . D ate of last amendment: 19 September 1972
1042 HILLWORTH ROAD (South Side) Hillworth House SU 0061 3a/191 SU 0061 3b/191 II 2. Built circa 1840 from a probably smaller early C19th house with later wings and alterations now converted into flats. It is two-storey stucco on projecting plinth, wide flat eaves and a slate roof. It has been a symmetrical design with flanking gabled wings.
Entrance front - centre part - 3 windows on 1st floor - 2 windows on ground floor and central 6-panel door, arched fanlight with lantern and keystone to opening, moulded string at springing of arch, and surround of 2 Doric pilasters, cornice and blocking course. Bracketed eaves to gabled wings which have arched central window and 2 smaller first floor windows and 3 windows on ground floor, sashes, most of glazing bars intact. Later 2 storey rendered wing projecting to east. Hipped slate roof, shallow eaves band. 5 windows 1st floor, recessed sashes glazing bars intact block sills.
Ground floor: 3 windows and 2 doors in semi-circular arched recesses. Doors of 4 panels with semi-circular fanlights. Garden front of main block is of similar general design to entrance front, though windows are considerably altered.
It has tent roof verandah and fine conservatory with cast iron columns. Extensive gardens with some fine trees, now a public park.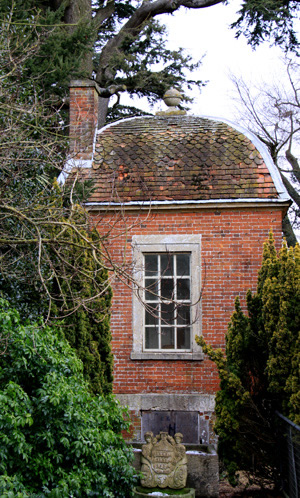 English Heritage listing for Garden Pavilion, Hillworth House (the old one) – Grade 2*
It is in what is now Hillworth Park and is to the south-east of the House.
Image of England Number 432025
Date listed: 09 April 1954 . Date of last amendment: 09 April 1954·
Garden Pavilion to the South East of Hillworth House SU 0060 3b/192 9.4.54. Grade II*
It is early 18th century. It has 1 storey and is a square brick pavilion on a stone plinth. It has a moulded stone cornice and ogee shape hipped old tile roof, with band of shaped tiled and ball finial.
The entrance door is on the north side and is half glazed with 9 panes with 2 bottom panels in surround of stone architrave, curved frieze and cornice. Each other side has a central window with stone architrave and cill.The interior is octagonal on plan with 3 corner cupboards and fireplace in 4th corner. Panelled dado and cupboard fronts. Plaster panel over fireplace. Moulded plaster entablature with enriched frieze, floral and shell ornament, bracketed cornice and plain domed ceiling.