The Devizes Union Workhouse
A parliamentary report of 1777 recorded workhouses in operation at Market Lavington housing up to 24 inmates, and at Rowde for up to 13 inmates.
The Devizes Poor Law Union formally came into being on 3rd November 1835. Its operation was overseen by an elected Board of Guardians, 36 in number, representing its 28 constituent parishes as listed below.
This workhouse provided for the poor of; Allington, Alton Barnes, Beechingstone, Bromham, All Cannings, Bishops Cannings, Cheverell Magna, Cheverell Parva, Chirton, Chittoe, Devizes St James , Devizes St John the Baptist, Devizes St Mary the Virgin, Easterton, Earl Stoke [Erlestoke], Etchillhampton, Marden, Market Lavington, West Lavington , Marston, Patney, Potterne, Poulshot, Rowde, Stanton St Bernard, Stert, Urchfont, Worton.
The population falling within the Union at the 1831 census had been 28,638 with parishes ranging in size from from Alton Barnes (population 138) to Devizes St Mary (2,589). The average annual poor-rate expenditure for the period 1833-35 had been £16,004 or 11s.8d. per head of the population.
Devizes Union workhouse was erected in 1836-7 on a site at the north of Devizes. The Poor Law Commissioners authorised an expenditure of £6,700 on construction of the building which was to accommodate 400 inmates. It was designed by George Wilkinson who was also the architect of many other workhouses including those or the Malmesbury and Cricklade and Wootton
Bassett Unions. His design for Devizes was a variation on the Commissioners' model cruciform or "square" plan published in 1835. It included an entrance and administration block at the south behind which further accommodation ranges radiated from a central octagonal hub to create separate exercise yards for the different classes of inmate (infirm/able-bodied, male/female).
Below location taken from and 1886 map Devizes Poor Law Institution.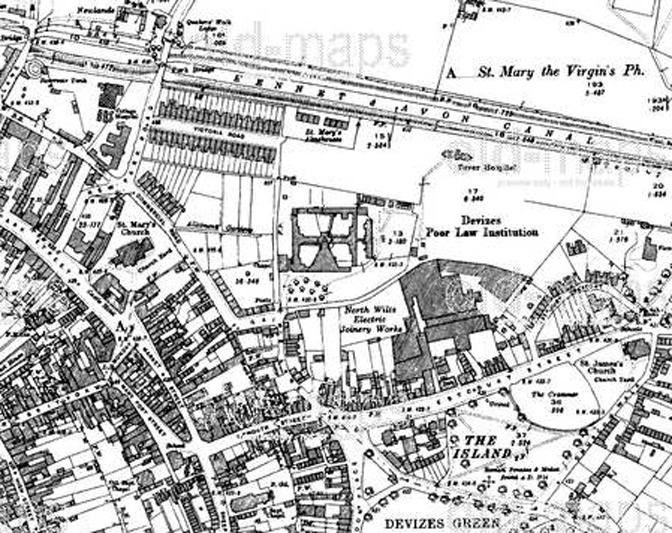 In 1881 there were 162 inmates -76 females and 86 males. There were 18 girl scholars aged 3 to14 and 22 boy scholars between 3 and 12. Agricultural labourers made up a large proportion of the inmates -there were 34. There were inmates who had identifiable handicaps; 3 were blind and 11 were classes as imbeciles or idiots. There were 7 inmates over 80 years of age and 20 who were between 70 and 79. There were five staff, the Master and Matron who were man and wife. They were assisted by a Nurse, a House Porter and a Childrens' Superintendent.
The workhouse location and layour are shown on the 1923 map above. The St James Surgery now occupies part of the old site.
An infirmary block was added parallel to the east side of the workhouse in the late nineteenth century.From 1904, to protect them from disadvantage in later life, the birth certificates for those born in the workhouse gave its address just as 7 Commercial Road, Devizes.
The institution was renamed St James' Hospital in 1948 and was used as a geriatric hospital until around 1990. It is now totally demolished apart from one small outbuilding. A Red Cross centre and doctor's surgery now occupy one end of the site. The larger part of the site is awaiting
redevelopment.