The wool, cloth and textile industry in the Devizes area
The origins of the Devizes textile industry stretch back to a dyer of 1281 and a Southbroom weaver of 1347. Devizes 'blankets' are first mentioned in 1429 and west Wiltshire had become well known for its white woollen broadcloth. Devizes now had begun to rival Salisbury and ranked next to that city in an account of the 1420s. There is an extensive and detailed history of the textile and cloth trades in Wiltshire at this LINK. There is also a Devizes Heritage biography of John Anstie a major wool nd cloth manufacturer in the 18th and early 19th century.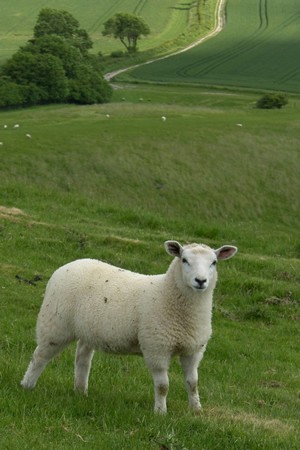 In the 15th century Devizes men are named as weavers or clothiers. One of these is known to have manufactured white cloth, another russet, and two were rich enough to own lands within the borough. William Smith, who largely rebuilt St. Mary's church, is thought to have been a clothier, and another clothier. William Salmon (1404) was the possessor of two looms and also a benefactor to the town.
In the 16th century the town remained an important source of white broadcloth and now exported the product directly to London instead of through the port of Bristol as before. The manufacturers prospered and became locally influential although they experienced the slack trade that prevailed in Henry VIII's reign. In 1528 something like a riot occurred in the town probably from this cause. But prosperity was general. Of those expressly called 'clothier' or 'clothman', ten were wealthy enough to have their wills proved in the Prerogative Court. Among the ten, Henry Morris (probate 1572) owned a workshop containing at least two broad looms making broad white cloth. His workshops were in Morris Lane, named after him. Henry Morris, Walter Bayly (probate 1560), Richard Batt (probate 1569), and John Batt (d. 1600) owned land within and outside the borough and was taxed on the level of most country gentry. Morris owned land in Bromham.The Batts, Morris, and Thomas Hull (probate 1576) were more than once mayors and Hull a borough M.P. There is an interesting and informative website on Morris Lane created and being developed by James Harrison Link
At least ten other clothiers can be detected, even if not always so names. Among these Walter Trymnell (probate 1511) died possessed of a 'warping bar' and two looms. John Baker (fl. 1551) was mayor, and Henry Blackborrow (fl. c. 1595) was lessee of no little land. Of five persons labelled 'draper' or 'woollen draper' John Willos (or Willis), the elder, was taxed at £2 in 1545-53) and Thomas Tymmer owned houses in the town. Both were mayors.
The 'weavers' were presumably of less account, but Edward Haynes (fl. 1555, 1576) became mayor and the clothier Richard Batt had been a weaver first. About mid century a 'weaver' called Catherine Brede made white and coloured cloths on contract, marked with her own mark, for sale in Gloucestershire through a Gloucestershire agent. A card maker first appears at the beginning of the century and another occurs in 1582 and was perhaps still living in 1618. No fullers are then known. Although little cloth was dyed in Wiltshire, a dye-house existed in the town by 1549.
All this suggests that Leland was not wrong in declaring that the town was in his time 'most occupied by clothiers' and presumably their workers.
The leather trades continued; a llover and gauntlet-maker died in 1582 and there is record of four tanners. Of these James Webb died c. 1559 and owned a tan-house, tanner's tools, and a dwelling in the Brittox. Jeremy Webb inherited a tan-house in Bishop's Cannings from George Reynolds in 1577. By 1559 there was a craft guild or 'company' jointly comprised of cardmakers, smiths, wire drawers, saddlers, and cutlers, an unexpected combination but one which shows the persistence of the metal trades which provided locally the wire for cards. While no founder is expressly named, the bells of St. Peter and St. Paul, Marlborough, were recast in Devizes in 1579.
Therewas a tailor in Devizes before 1443. Other tradesmen directly serving the sophisticated consumer now appear: a capper in 1555; three haberdashers between 1560 and 1569, a joiner in 1564; a barber in 1576; a painter in 1582; and a jerkin-maker in 1583.
The 'company' referred to above is the first evidence of the way in which the craft guilds, perhaps existing somewhat earlier, were organized. At the herald's visitation of 1565 such a company is mentioned again. It was officially called 'the fellowship and corporation of the burgesses and merchant adventurers', It was presided over by the Mayor, its 'head and governor', and divided into three sections, each under two wardens. Those Sections were the clothiers and weavers, the drapers and tailors, and the mercers..' A grant of arms was registered. The relationship of the three sections of 1565 to the 'company' of 1559, which consisted only of practitioners of the leather and metal trades, is obscure, unless, which is unlikely, it is to be identified with the mercers' guild. But it has been concluded that its creation about this time arose from the wish to restrict competition in an age of declining prosperity for the Wiltshire cloth towns, which set in about the middle of the century. In 1523 as many as eight townsmen were assessed at £40 in anticipation of the subsidy. In the assessments of both 1545 and 1576 Salisbury stood out far above all other towns, followed in that order by Marlborough and Devizes. Trowbridge and Warminster were not far behind. The demographical evidence, such as it is, seems to point towards the same ranking.
By the earlier 17th century wages in the cloth trade had fallen and there was distress among the weavers, some of whom were sent to the house of correction. Shortly before 1630 the Devizes poor rate rose. This was but a local reflection of the prevailing widespread destitution in the trade. Between 1611 and 1618 no fewer than eleven Devizes men were prosecuted in the Exchequer for engrossing. Moreover since country clothiers competed with town clothiers some attempt was made by the latter to enforce apprenticeship. A reorganization of the merchants' 'fellowship' which took place in 1614, with a constitution which insisted on apprenticeship, perhaps had such an aim. By the middle of the century Devizes weavers were finding it hard to retain their apprentices, and a list of a dozen apprentices and their masters, drawn up apparently ten years before, contains the name of only one master-weaver. None the less the old 'clothier' or woollen-draper families such as the Batts, the Morrises, and the Flowers continued to govern the town and fill the mayoralty. New ones who now arose did the same: Pierces, Erwoods, Webbs, and Paradises. William Erwood and Richard and Robert Flower were all mayors and so were Edward Northey and John Stephens, also clothiers. That some at least of these manufacturers possessed gentle status and were prosperous is in various ways attested. Northey and John Pierce (d. c. 1642) sent their sons to Oxford, and Richard Batt bequeathed £130 in cash.
The effect of the changes in the guild structure of 1614 seems to have been to turn the three sections of 1565 into three separate companies. The new constitution was agreed upon in the common council of the borough, and the mayor remained the 'chief head and governor'. The parent company or merchant guild was now implicitly abolished. The three companies were the drapers, the mercers, and the leather-sellers, each under a master and two wardens, called in the case of the drapers, master wardens. The first included clothiers, weavers, woollen-drapers, tailors, hosiers, fullers, shearmen, and spinners, i.e. the textile manufacturers and leading textile retailers, and it extended also to coopers, carpenters, masons, tilers, joiners, cutlers, smiths, and ironmen, in fact the constructional workers and most metal-workers. The second company included mercers, grocers, linen-drapers, haberdashers of both small wares and headgear, vintners, inn holders, brewers, bakers, apothecaries, barbers, surgeons, chandlers, painters, braziers, and glasiers, i.e. the catering trades and leading retail tradesmen. It has been concluded that the leather sellers comprised dealers in hides, patten-, boot-, bellows, and harness-makers, saddlers, and girdlers. The regulations promulgated required the registration of those free of the companies, the admission and regulation of apprentices and journeymen, the correction of trade abuses, and the restriction on outsiders seeking to trade in the borough. Small changes in the mercers' constitution were made in 1620 and 1623, and in 1651 the whole of the drapers' constitution was ratified, which suggests that the company was still of some account. In general it may be doubted whether the companies were ever of much economic, as distinct from social, importance. Nevertheless the charter of 1685 sought to restrict trade within the borough to those free of one of the companies, unless they were locally apprenticed.
While white broadcloth no doubt continued to be the staple product, felt and serge now began to be manufactured. There were felt-makers in 1633 and 1637, a serge-weaver in 1637, and a serge-comber in 1631. There was a hosier in 1615 and, somewhat unexpectedly, a silk-weaver two years later. 109) Hosiers had market standings by 1630. Besides combers practitioners of processes subsidiary to weaving began to show themselves. Thomas Blackborrow, doubtless a kinsman of the 16th century clothier already mentioned, is labelled both 'fuller' and 'shearman', and two other fullers existed in 1620. William Watton (1620) and Robert Showring (1631, 1652) were card makers. Richard Godbye, and Richard Palmer are named as glovers, Richard Attwood and John Miles as curriers, John Thorer as a saddler, a Paradise and Thomas Merryweather as tanners. Cordwainers or shoemakers are numerous enough to suggest the presence of an industry catering for far more than a local market.
By the turn of the century Devizes had not significantly changed its relationship to other Wiltshire towns. With Salisbury and Marlborough it was the only Wiltshire town to which the Crown appealed in 1614 for money and plate. In 1622 it was the only town, apart from Marlborough, which was asked for benevolence. In 1635 and 1638 it contributed somewhat less to ship-money than Marlborough, but more than Chippenham and much more than Wilton. In the middle of the century, however, it outstripped Marlborough and in 1662 Fuller called it 'the best and biggest town for trading (Salisbury being a city) in the county'.
There is no evidence that Devizes engaged in the making of medley clothes which elsewhere in the county was undertaken with success around the middle of the 17th century. Consequently the town lost ground and the centre of Wiltshire textiles shifted westward. If petitions of 1696, 1719, and 1731 are to be trusted, the Devizes manufacturers suffered considerable losses. Yet cloth making did not leave the town; it changed its form. In the later 17th century the town became a chief centre of serge manufacture, producing a strong variety of 'German' serge much used by country people. Edward Bowman was a serge-weaver in 1657 and between that year and 1753 23 other people are described as serge-clothiers, serge-makers, or serge-weavers. The last of these was George Pead, serge-weaver of St. James's chapelry, but serge was still being made in 1779.
A slightly later Devizes product, noted by Defoe as a speciality of the town, was drugget, popular for its lightness. Four members of the Phillips family engaged in its manufacture between 1716 and 1734, and ten other drugget-makers or drugget-clothiers can be found. They include Morgan Price who was so described in 1734 and who was a serge clothier in 1748. Devizes druggets were being exported to Russia up to 1753. Felt-making continued. A felt-maker is mentioned c. 1669 and there are four new ones in the 18th century, the last in 1750.
Another industrial event of the 18th century was the inception of 'cassimere'-making. 'Cassimeres', closely-woven fancy fabrics sometimes shot with silk, cotton, or mohair, were the speciality of John Anstie, who was trading from at least 1779 and who c. 1785 built a factory in New Park Street at the corner of Snuff Street on a site acquired about ten years earlier. This was initially a silk mill. At the time it was one of the largest buildings in the south west. Anstie was said in 1788 to have kept 300 looms at work - below left. His cloths were exported to the Continent and he himself was a leader among West of England clothiers. He went bankrupt, however, in 1793, partly perhaps through over-diversification, and partly because the French War made the discharge of debts impossible.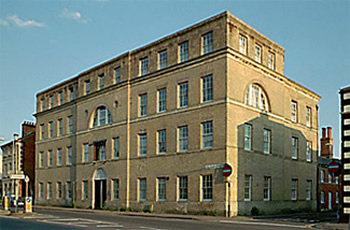 Between the Restoration and the Reform Bill fresh families of Devizes clothiers and drapers arose, notably the Suttons, who succeeded by marriage to New Park, the drugget-making Phillips' and others of that name, i.e. Edward (1733-67) and Edward White Phillips (d. by 1767), and John Waylen (1687-1727) who married a Paradise and founded a dynasty. Of these the elder James Sutton was a white clothier in 1715, his son, also James, was admitted to the drapers' 'fellowship' in 1719, and a John Sutton, not in the direct line, was a clothier in 1767. Stephen Hillman, trading in 1791, was worth £800 yearly in 1797. Such were some of the new-comers. Some of the older families, however, continued, such as the Paradises and the Webbs.
There were still six clothiers in 1783-4 and three in 1791. By c. 1828 all had departed. The last of any account was Robert Waylen (d. 1841), who in his hey-day employed a thousand and used the best steam engine in the district. His factory, afterwards a brewery stands behind the houses on the west side of Northgate Street. It ceased to make broad cloth in 1824 but was still making fancy waist-coatings in 1826, which continued to be made for a few more years by one Holloway, Waylen's foreman. Though the firm of J. J. Fox & Co. was still listed in 1839 as making linsey-woolsey and as woollen cloth manufacturers and wool-staplers in 1865, they seem to have been primarily retail drapers.
The industries ancillary to cloth manufacture were more sparsely represented after the Rebellion than they had been in early times. Between 1654 and 1679 five card-makers and four worsted-combers are named. Wool-combers are not conspicuous in the next century. They seem, however, to have been grouped into an informal company, for in 1739 they collectively attended a public ceremony. A comber was still living in 1776. In 1756 there was a dyer, and in 1743 Richard Brooks, clothier, patented a machine for drying yarn. There was a fuller in 1734 and shearmen in 1723 and 1759.
Among the ancillaries silk-throwing must be included. As has been shown, silk might be needed in weaving 'cassimeres' and Robert Waylen spun his own. A distinct trade is said to have arisen about 1815 and by 1855 was employing some 100 men. Belvedere, once Snakesmead mill, in Roundway parish, can be traced from 1823, when Peter Walker owned it. In that year Walker joined Robert Waylen to work another factory. This was in Anstie's former building. What came of this enterprise is not known but Belvedere mill, then owned by Frederick Walker, lasted until 1859.
Wool brought wealth to Devizes not only through those who wove from it but also through those who dealt in (or jobbed) it. By c. 1637 there was already a market spinner. William Ludlow and his ancestors seem to have been wool-broggers throughout the later 16th and earlier 17th centuries and there are four known wool-staplers within the period 1672-86. During the first sixty years of the 18th century the staplers are stillnumerous. Thirty three of them, including one cloth factor, are then known by name. Moreover they lasted on for another century. Four are known between 1783 and 1839, the last being William Cunnington (d. 1846), the nephew of Colt Hoare's collaborator. Cunnington established his wool business at Southgate House in 1827 and in 1836 began additionally to deal in wine and spirits. His sons William (d. 1906), Henry (d. 1887), and Edward carried on after their father's death, though it is not clear for how long they acted as wool-staplers, certainly not after 1887.