Roundway Park and House - the New Park
Devizes Heritage is indebted to Brian Hillier Wilkinson for the architectural information in this article. Brian now lives in London but his family lived in Devizes for over 600 years.He also alerted us to the old photos of the House in the Swindon English Heritage collection.
The New Park was Crown land until the mid 17th century when an unknown purchaser bought (alienated) an estate there. The Willy or Willey family built the first House there in the early 18th century. It was probably George Willy the elder of Devizes or his father. This first House was a relatively modest house, orientated north-south, a rectangular block of three stories, brick built with stone dressings topped with a balustraded parapet, only slightly later being flanked by single story additions containing a drawing room and dining room. The house contained some fine paneled rooms, a good early staircase with turned balusters, marble chimney pieces and plaster ceilings which survived up until demolition in 1955.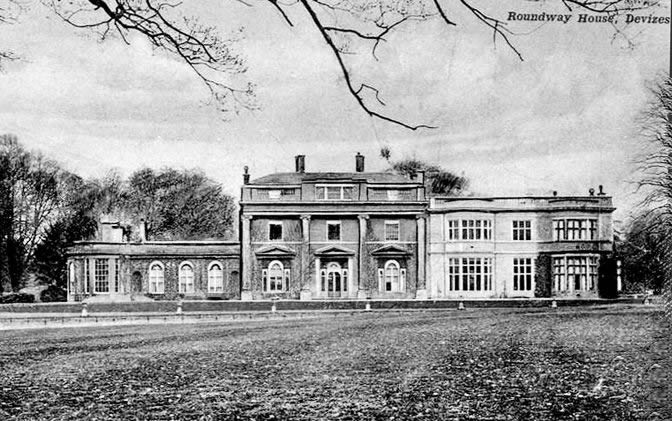 Above is Roundway Park House ca 1910 from an old postcard.
Below is the 1773 Andrews and Drury map of Roundway Parish and Devizes. The route of what is now Quakers Walk is clearly visible as the cart track between the old market near St. Mary's Church, Devizes and Roundway village. In 1773, as shown on the map, Willey Sutton was master of the House. He was the son of Prince Sutton and Mary Willey. Mary inherited the House on the death of her unmarried brother George Willey in 1770.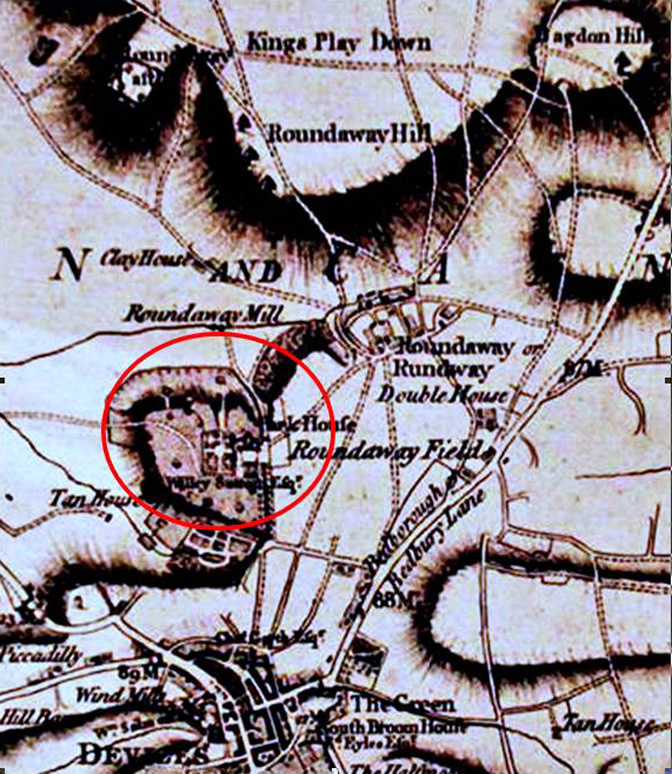 Willey Sutton died in 1775 and the estate passed to his younger brother James Sutton. James Sutton, had a mercantile business in London and had married Eleanor daughter of Anthony Addington, MD of Reading MD physician to William Pitt. This connection to the Addington family later on brought Henry Addington to Devizes; he was to become the Devizes MP and eventually Prime Minister of Great Britain.
As was often the case on a prestigious marriage additions and alterations were undertaken to reflect the status and aspirations of a gentry family. The Sutton family, local clothiers and the Willy family were closely interlinked by business interests and marriages. James Sutton, now with business interests in Devizes and London embarked on what in a surviving account book is modestly termed alterations at New Park, 1777-83. The choice of James Wyatt as architect was a prodigious one. Wyatt had shot to fame in 1772 with the Pantheon, assembly rooms in London and overnight became the most fashionable architect of the day. He designed in the style of Robert Adam but in a more refined and elegant way. His services were in great demand.
Wyatt's design was based on that of the great Palladian houses, although following a more fashionable trend. The principle rooms were at ground level, unlike earlier houses where the principle rooms were on the piano nobile above a rusticated ground story. This introducing a less formal transition between house and pleasure grounds. It consisted of a centre block and lower flanking wings and was constructed of Bath stone; all the bricks used in the building being manufactured on the estate. It has close affinities with Heaton Hall in Manchester with which it is almost contemporary.
At New Park the centre block, orientated west, was of three bays framed by giant engaged Ionic columns, containing Venetian windows in tabernacle frames on the ground floor, surmounted by shallow pediments, three plain sash windows in the upper story and an attic concealed by a blind balustraded parapet with a central Diocletian window. The flanking single story wings were symmetrical each with three semi circular headed windows, framed by Tuscan pilasters and blank niches. Each wing terminated in a shallow bow with tripartite windows surmounted by a balustraded parapet.
The earlier house was retained, being reduce by one story and converted into offices, the old drawing room and dining room becoming kitchen and laundry respectively, as the north side of the quadrangle, the south wing being stables and carriage houses. The east wing had in its centre a triple arch entrance, the centre one of which carriages passed into the courtyard; this was also surmounted by a clock set under a shallow pediment.
The grandeur of Wyatt's facade belies the fact that this is a comparatively small house aggrandised by the flanking wings.

Above: Roundway House ca 1890 - note that the right hand wing is not as complete as the later photo at the top of the page courtesy of Wiltshire & Swindon History Centre.
One suspects that James Sutton was making a statement and required a lot a facade for his money! The house was in effect only one room deep, the staircase in the centre block being flanked by service rooms with corridors in the wings. The beauty of the interior lies in fact once all the 10 foot high double mahogany doors were open a vista of some 200 feet was obtained from the greenhouse, through a gallery, a library containing glazed bookcases, entrance vestibule, parlor, into the drawing room and terminating in the oval dining room. The estimates by Joseph Rose for the elaborate plaster ceilings after Wyatt's designs for the drawing room and dining room survive. That of the drawing room being a lozenge surrounded by an elliptical border of reeds and ribbons, embellished with festoons and drops. That of the dining room, a design used by Wyatt on many occasions, an oval of garlands of wheat and vines, honeysuckle and husks, the walls being decorated with simple pilasters and two large niches to contain serving tables.
The first floor of the main block was reached by a main and subsidiary staircase and had 6 bedrooms, the attic story contained a further 7 bedrooms. The first floor rooms of the old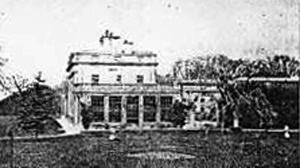 house served as servants' quarters.
Right is a very old photo of the old conservatory orangery on the east side of the House. This was in the same form as the 18th century House before the Colston family began their alterations ca 1860? Photo is courtesy of English Heritage. On the left is the south face of the house shown in the photos above and below. In 1801 John Britton wrote that it was a fine house with landscaped grounds designed by Humphrey Repton.
James Sutton died in 1801 and was survived by his widow Eleanor and his eldest daughter Eleanor. Eleanor Sutton (James daughter) married Thomas Grimston Estcourt of Estcourt House Gloucestershire. On the 1810 Andrews and Drury map of Wiltshire Estcourt is shown as the master of New Park., and so clearly they lived in the House together.On the death of Eleanor Sutton (James widow) in 1839 the house was sold to Edward F Colston of Filkins Hall Oxfordshire.
In about 1840 a fine Lodge and gates were built at the corner of London Road and Roundway Park (Road). It controlled access to Roundway House from the London Road. It is now known as Marlborough Lodge and it is a grade 2 listed building. The English Heritage listing for it and a photo are included at the bottom of the page. English Heritage put the date of this house as early 1800s.
In 1840 New Park estate was bought by E. F. Colston of the powerful Bristol trading family. This estate then became known as the New Park or Roundway Park.He started to enclose land and this caused local resentment. He enclosed Sheep Wash Dell in 1842 and created a deer park; in 1892; this consisted of 120 acres enclosed by iron fencing containing about 200 fallow deer. In the1850s he built the Quaker's Walk gatehouse which survives to today and changed the course of this to his driveway.
Colston immediately in 1840 engaged a firm of London architects, Finden and Green to improve the house. A porte-cochere was constructed moving the principle entrance from the west side of the house into the courtyard and a semi-circular balustrade was introduced, masking the stables from the house's entrance - as seen in the photo below.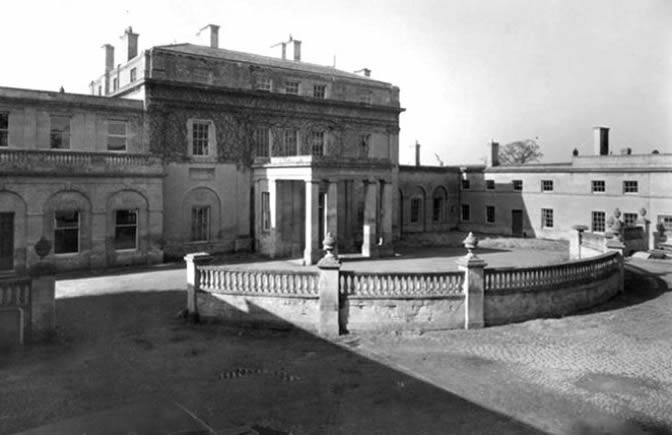 Above a photo of the inner Courtyard of Roundway House. This inner quadrangle was reached via an archway through the stable block. Courtesy of the NMR collection English heritage Swindon.
The main reception rooms were re-ordered and modest internal changes were made to update the interiors. It was also at this time New Park was renamed Roundway Park.
The house remained untouched until 1892 when Wyatt's greenhouse was reconstructed as a large library cum reception room with oak paneling and heraldic stone fireplace surmounted by a carved wood over mantle incorporating the Colston- Murray family crest. This over mantle was for some years at Devizes Museum in Long Street but has subsequently disappeared. Above this library new bedrooms and a bathroom were constructed and on the ground floor in the courtyard lavatories and a gun or map room.
The design of this addition was horribly out of keeping with the Wyatt house, being designed in the neo Jacobean style with large semi circular mullioned bow window to the west and a large rectangular bay window opening into the gardens. Some time later, possible around the time Charles Colston became Baron Roundway of Devizes in 1916, a matching semi circular bow was created and extended to provide a further bedroom and bathroom. In an attempt to harmonize this new neo Jacobean wing, which rivaled Wyatt's main block in size, all Wyatt's sash windows were replaced with mullion windows.
Also about this time Wyatt's original entrance hall and parlor were thrown together creating a room to accommodate some early 18th century paneling removed at the demolition of the first Lady Roundway's childhood home Whitton Park, Hounslow Middlesex. This was demolished in 1910. It is also possible that the urn finials on the gate piers of Quakers Walk are also from the same source. The Whitton Estate has a long and complicated history but it is almost certain that this paneling was removed from what had originally been a greenhouse designed for Archibald, 3rd Duke of Argyll, by James Gibbs in 1725. In its original position it was installed in a low upstairs room and in order to fit it into Roundway the paneling, consisting of fluted Corinthian pilasters between fielded panels, was raised on a dado to obtain the appropriate height, Gibbs's chimney piece was also installed. In 1916 C. E. H. A. Colston was created the 1st Lord Roundway. From 1937 church services were held there, possibly the first to be held in the village in its known history.
Below : a plan of the House through its various stages - courtesy of Brian Hillier Wilkinson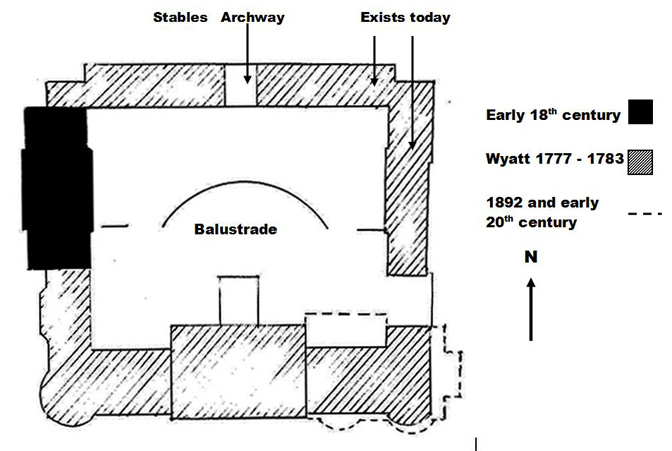 Edward Colston, last Lord Roundway died in 1944, he had lost his only child, a daughter, who was tragically killed falling from a window of the family home in London. Gladys, Lady Roundway continued to live at Roundway until the estate was divided into lots and sold in 1949 when she moved to London. There is a memorial and stained glass window in St. James Church, Devizes to the memory of the Colston family. After the war the 2nd Lord Roundway sold Roundway Park. The house, pleasure gardens, kitchen garden and a paddock were bought by Wiltshire County Council, who used part of the house for Civil Defence purposes. The estate land of 1584 acres was sold to the Bristol Merchant Venturers as the trustees of H. H. Wills charity (Bristol Tobacco company) for Chronic and Incurable Sufferers.
In 1954, having found no suitable use for the house WCC sold it to a property speculator, Peter White who demolished the north and west wings, retained the coach house and stables and the east wing which he converted into a house. Some remnants of the old house can still be found at Roundway today - four charming ceiling roundels, originally installed in the drawing room ceiling, variously attributed to Rebecca, Cipriani and Zucchi and some ironwork from the principle staircase.
All the other fixtures and fittings of Roundway, some very fine marble chimney pieces, the library bookcases, the paneling and the 7 pairs of 10 foot high double mahogany doors with ivory handles have vanished without trace, The finer items were purchased by Bert Crowther of Syon Lodge, a dealer for some 60 years in architectural salvage and today many of Roundway's fittings probably grace some 5th Avenue New York apartment. In the 1950's some 300 country houses were demolished, ironically reaching its peak in 1955, authorship and attribution was largely ignored and most late 18th century architecture labeled 'Adam'. We have come along way since then in terms of attribution and recognition of the other great 18th century architects, one of whom was James Wyatt.
Roundway House or New Park was not one of Wyatt's great works, he was notoriously difficult to deal with. It cannot for example rank with Heaton Hall, Manchester, Heveningham Hall, Suffolk, or even the beautiful interiors of Badger Hall, Salop (Dem),. All these Houses were contemporary with Roundway but it is nonetheless regrettable that Roundway was demolished. There were some good surviving interiors, the dining room, drawing room and library but sadly it seemed the Colstons lacked taste and sensitivity intheir additions which greatly detracted from the original design. Roundway House was demolished in 1955 as the main house was in poor condition and had dry rot.
Below is part of the remainder of Roundway House in 2010; in the late 18th century this was the stable block. The windows have been put into this building since the 1950s. Photo by Alan Carter courtesy of Robin Garton.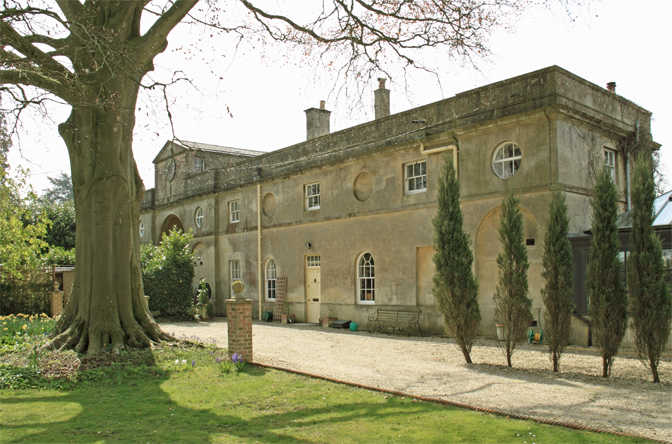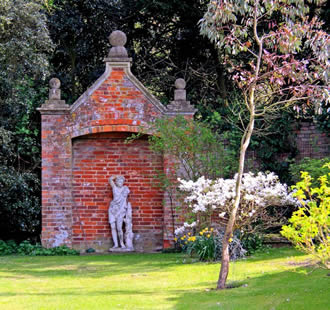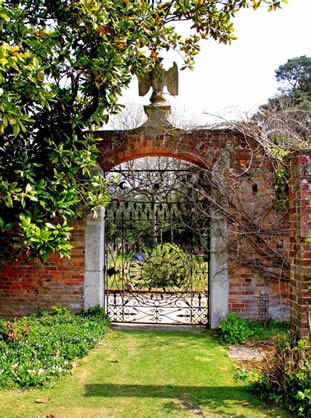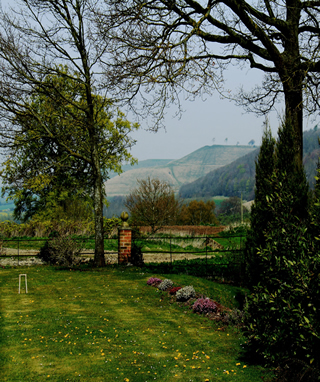 Above some of the old garden features remain
Right is a wonderful view to Oliver's castle and Roundway Covert - an original part of the New park estate.
In 1916 C. E. H. A. Colston was created the 1st Lord Roundway. The Colstons remained at Roundway Park until 1948. A Reading Room of timber and corrugated iron on a brick foundation was erected by Edward Coward. From 1937 church services were held there, possibly the first to be held in the village in its known history. There is a memorial and stained glass window in St. James Church, Devizes to the memory of the Colston family. After the war the 2nd Lord Roundway sold Roundway Park. The house, pleasure gardens, kitchen garden and a paddock were bought by Wiltshire County Council, who used part of the house for Civil Defence purposes. The estate land of 1584 acres was sold to the Bristol Merchant Venturers as the trustees of H. H. Wills charity (Bristol Tobacco company)Â  for Chronic and Incurable Sufferers. Roundway House was demolished in 1955 as the main house was in poor condition and had dry rot.
Below and left is Quakers walk in about 1900, it was a carriage drive way from Roundway Park to Devizes. Below and right Quakers Walk was gated as part of the enclosure noted above. These gates survive. Beyond the gates is the Kennet and Avon canal and St. Mary's Church.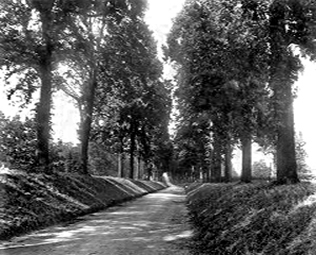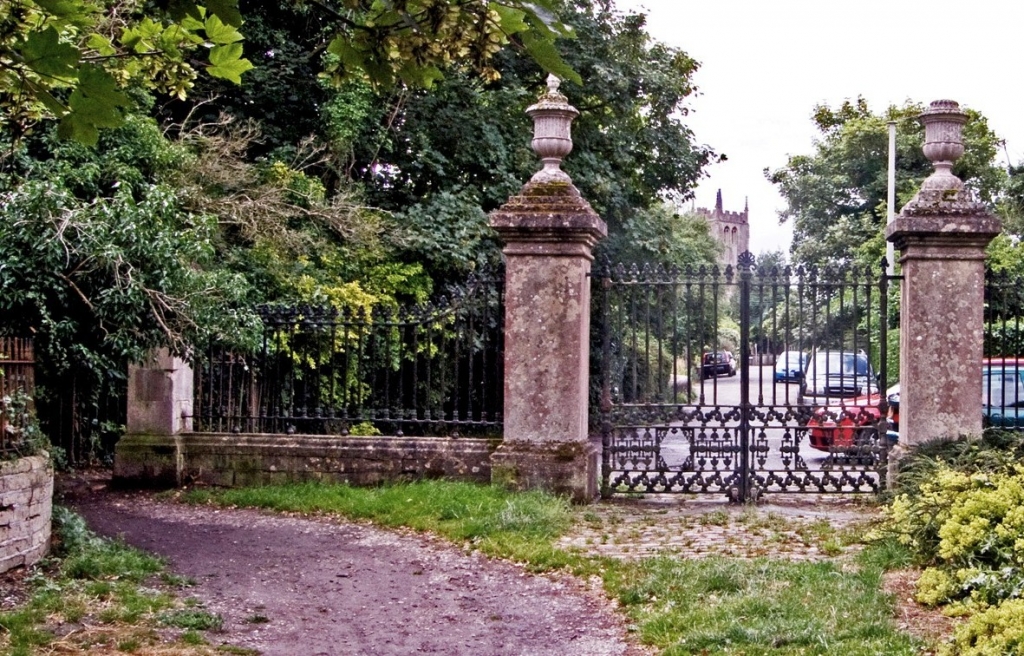 Below is the gate house for Roundway Park at the end of Quakers Walk, it too was built around 1850. The gate house is listed by English Heritage (EH)  as Quakers Walk Lodge; it and the gates are grade 2 listed. Please see the bottom of the page for the English heritage listing.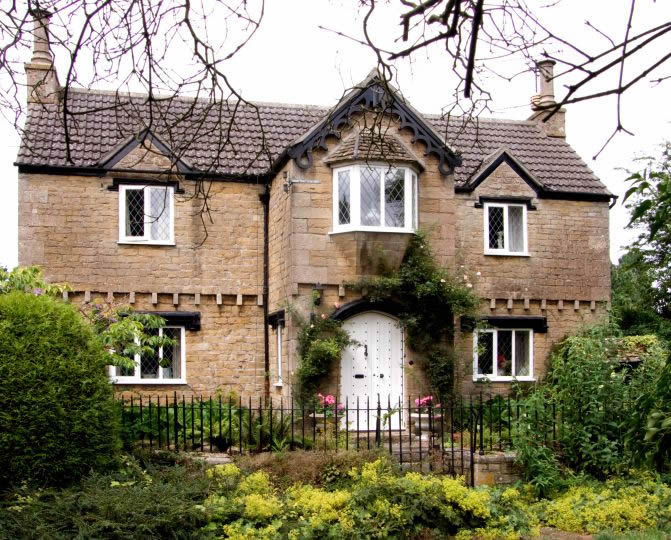 The land to the east of Quakers Walk itself is still owned by the Merchant Venturers of Bristol and its surrogate St. Monica's Trust. Applications for development of this land continue to cause controversy in Devizes.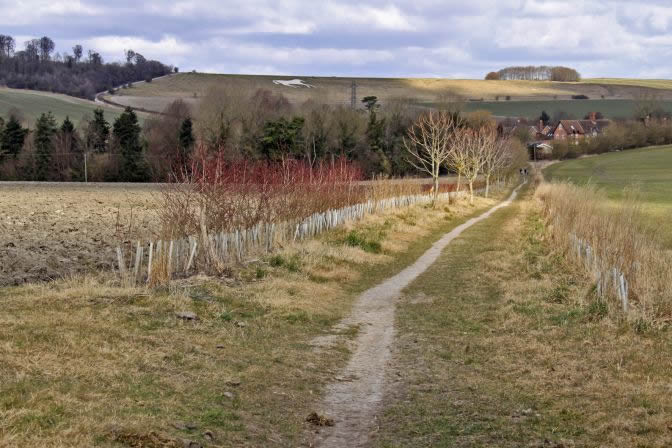 Above is the continuation of Quakers Walk footpath to Roundway Village. Apart from the Millennium White Horse (2000) and the plantation on Roundway Hill, it is probably not that different from 1773. Nicholas Place was just to the right of the photographer. The surrounding land is in agricultural production but it too is owned by the Merchant Venturers and open for future development. Roundway House is to the left of the photo.
English Heritage listings for Quakers Walk Lodge and Marlborough Lodge, Roundway Park.
1) Quakers Walk Lodge and gates, Devizes, Wiltshire
There is a photo of the Gate House in the text above
Date Listed April 1987. Grade II. Images of England Number: 447043
ROUNDWAY QUAKERS WALK SU 06 SW 5/218 Quakers Walk Lodge and gates II
Lodge, gate piers and gates to Roundway Park, built in the mid 19th century. Lodge is of squared rubble stone with concrete tile roof and end wall stacks, each with one octagonal shaft. .
Two-storey, 3-window picturesque cottage with barge boarded projecting centre gable and gablets over first floor side windows. Stone corbelling under first floor. C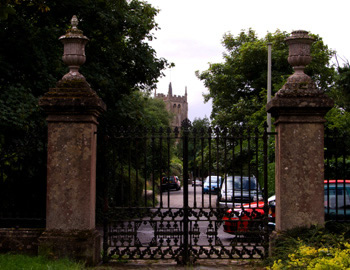 entre has Tudor-arched doorway with hood mould and first floor 1:2:1-light oriel on ashlar base with stone slate roof. Sides have casement windows with hood moulds, 2-light with shutters above, 3-light below. C20 rear additions.
Gates right. A curving low stone wall with spearhead railings links to large gates across drive. They have Ashlar Gacorniced main piers with urn finials and plain ashlar outer piers. The gates have ornate cast-iron gates with anthemion finials and elaborate lower panels. Anthemion - head rails each side on ashlar base.
2) Marlborough Lodge and Gate piers, Roundway Park (London Road), Devizes, Wiltshire
Image of England Number: 447031. Date listed: 27 June 1973 Grade 2
ROUNDWAY LONDON ROAD SU 06 SW (north side) 5/206 Marlborough Lodge and gate piers Grade II . It was the Lodge to Roundway Park and situated on the former Drive to Roundway House. It was built in about 1800. (NB Brian Hillier Wilkinson who is researching the Roundway Park estate is convinced that this is incorrect he places it at around 1841 in the Colston  era)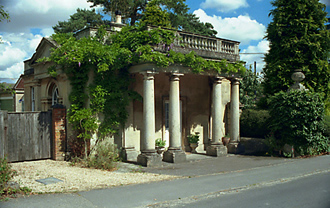 It is constructed of ashlar with low slate roof. It is single storey with a projecting portico with four paired columns, entablature and balustrade. Single pilaster responds and half-glazed door in architrave. Entablature continued each side with parapet and returned on end walls. End walls have projecting pediment on angle piers, framing Venetian window with blank side-lights and centre sash. A rear wing has south side entablature and balustrade over 12-pane sash with architrave and cornice set in recessed panel. Each side of Roundway Park are two ornate oval rusticated gate piers each with fluted band under corniced cap and raised piers with scroll tops on four sides, cornice broken forward over scrolls. Large rounded urn finial on heavy stepped base.
The original ashlar base for iron railings runs back from the east pier to the Lodge which has attached rusticated corniced pier. Roundway Park House, now demolished, was built 1777-83 by James Wyatt for J. Sutton.