Private and Council Schools in Devizes, Wiltshire.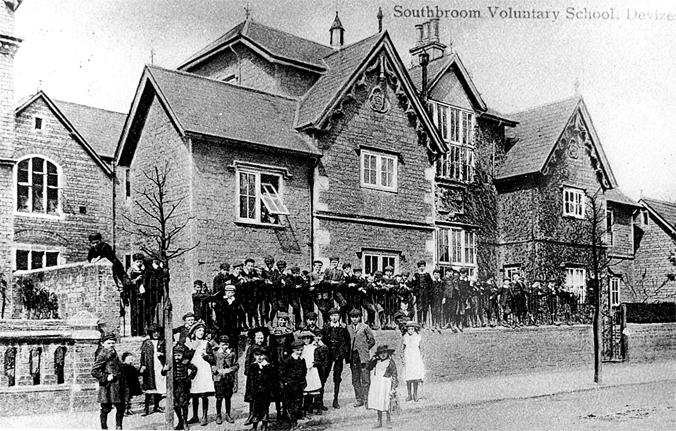 Back to History home page
There is a fascination about the historic schools that our grandparents knew and that may now have another use or have been demolished.
These web pages give some information on the Infant, Junior and Secondary County and Church schools provided in Devizes since the19th century.
Also in these pages you will find details on the private schools, both boarding and day, that have provided education for smaller numbers of "middle class" pupils. These schools have mostly closed. For private boarding schools useful insights can be gained by accessing the 1841 to 1901 census; these help to identify the number of boarders in the school, the resident teachers and where they were all from.
The photo above right is of the Southbroom Parochial School (St. James' Church of England School) in about 1910. (Courtesy Wiltshire and Swindon History Centre). The Wiltshire Council Community History section has done a fantastic job of researching old Council and private schools in Devizes. Their listing of Devizes School Histories is very comprehensive.
Devizes Heritage reports on private and Council Schools
These Devizes Heritage reports provide additional information to the Council site above.
The Richard Biggs Boys Boarding School 1822 to about 1862 High Street and Long Street.
Devizes Grammar School in Heathcote House, the Green, Devizes (1874 to 1917)
Ladies Private Schools on Long Street (1770 to 1910) Mrs Fanny Elliot, Miss Buckland, Mrs Grantham
Miss Elizabeth Bidwell's Ladies Boarding School Brownston House, 47 New Park Street, 1839 to 1901.
Mr George Evans Boys Boarding School 28 Bridewell Street from 1839 to ca 1862
Miss Farmer's Ladies School at 24 and 28 Bridewell Street and 40 Long Street. 1880 to 1895
Miss Eliza Foster's and Miss Elizabeth Farmer's School 24 Bridewell Street 1851 to 1888.
St. Joseph's Roman Catholic Infant and Junior School , Devizes1865 to 2009.
Southbroom Junior Church of England School.
St. Peter's School Devizes
Wilsford House School a boys boarding school 1889 to at least 1908 30, Long Street; Principal D. Wilson Rumsey